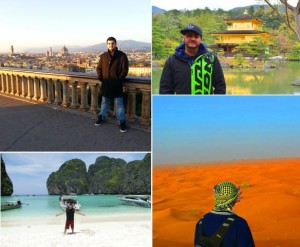 Hey! Welcome to The Globe Nomad's About page.
I'm Mike and I would like to welcome you to my travel blog. I've been meaning to create an online blog for quite some time now.
I am very passionate about what travelling has to offer – planning, meeting new people, visiting new places, eating the local food and anything else travelling entails. Like many of you out there, the thought of going around the world and leaving everything behind did cross my mind a few times, but I find this to be a little unrealistic.
I feel that although I can do it whenever I like, I choose not to. I appreciate little things, like knowing that in a months time I get to go abroad and experience a new culture. I don't need a solid year of travel to be happy. I like short to long trips of around 4 weeks, generally focusing a holiday on one specific country.
I believe now was the right time to take it a step further, share my experiences, recommendations and my life ethos with whoever follows this blog that I've personally taken the time to create for you.
Throughout the years I've travelled to quite a few beautiful places and I'm definitely not stopping now. While I will be keeping this site as a personal space, my main aim for this blog is for it to be a recommended source of travelling information. You can get in touch with me directly whenever you like on mike[@]theglobenomad.com.
Thank you for visiting my website and safe travels!
Sincerely,
Mike