One specific characteristic that resonates among travellers who have been to Madrid is the food. In general, Spain is known for having one of the best food scenes within Europe. I always enjoyed the dishes which were served in other Spanish cities, however something about Madrid's food scene left its mark on me. I'm going to absolutely honest; when I visited Barcelona I was ALWAYS surrounded by a ridiculous amount of tourists. I loved Barcelona, don't get me wrong, but it felt different in Madrid. I felt that I managed to 'connect' directly with Spaniards – from the vendors behind the stalls selling tapas, to the barmen behind the bars selling beer, to the confectioners selling sweets and chocolate. Yes, it felt different. It felt more authentic. It was more authentic.
Madrid's foodie scene is amazing. Whether you're searching for a Michelin-starred restaurant, a gourmet market or you're out with a few friends searching for tapas; you are definitely going to find something to satisfy your cravings. Best of all, most of the food is very affordable and very well priced. You could easily walk away very satisfied, sampling numerous small dishes, after spending around €20 or $23.
During my stay in Madrid I tried various dishes at different eateries, way too many to list here but having said that, here are the one's I highly recommend.
Tapas
You're spoiled for choice. The options with tapas are so great that it is impossible to try everything during your stay in Madrid. You could definitely try your best though. Tapas are generally considered to be appetisers or snacks which pair extremely well with a beer or wine while socialising the day/night away – and that is exactly what's great about them. Tapas vary from simple small dishes like the famous calamares which are rings of battered squid to different types of rice dishes known as paella.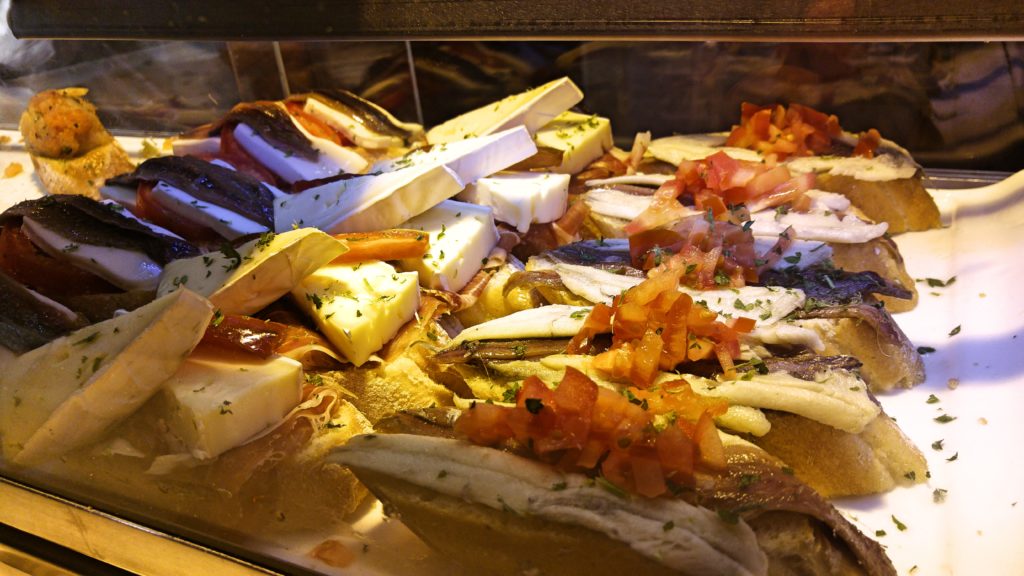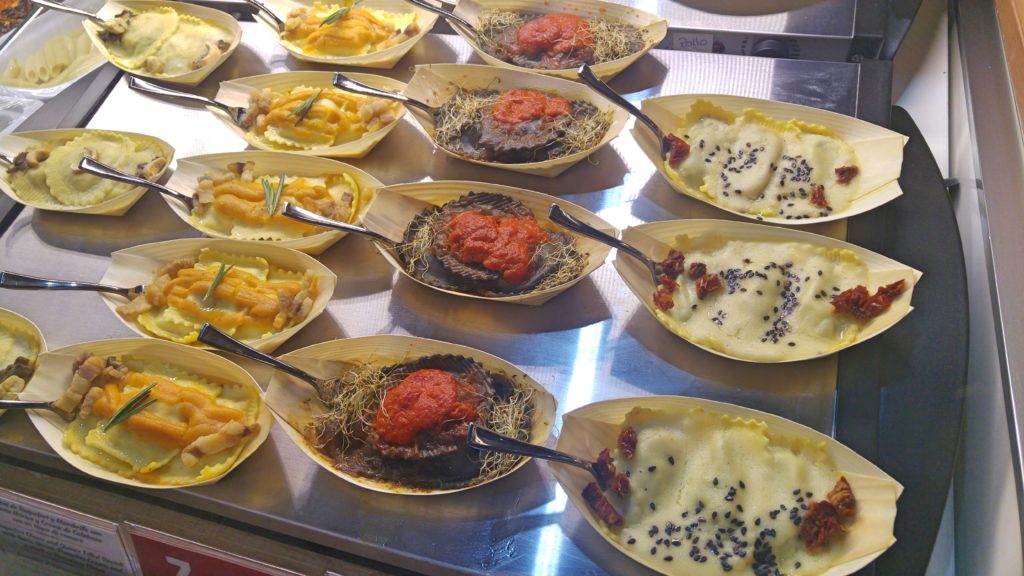 Bocadillo de Calamares
"Don't forget to try the Bocadillo de Calamares" were the words that came out of my friend's mouth before I left for Madrid. A simple yet delicious treat, no visit to Madrid is complete without trying one of these local famous sandwiches made from fried squid and a simple bread bun. Generally found in tiny bars, these sandwiches are usually paired with a small beer and olives. The best one I found was under the arches next to Plaza Mayor.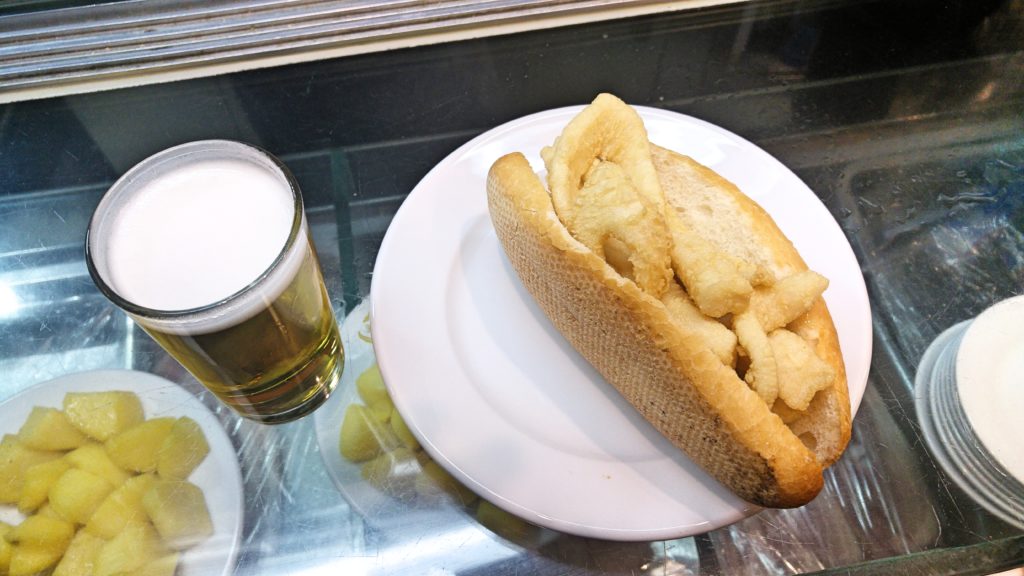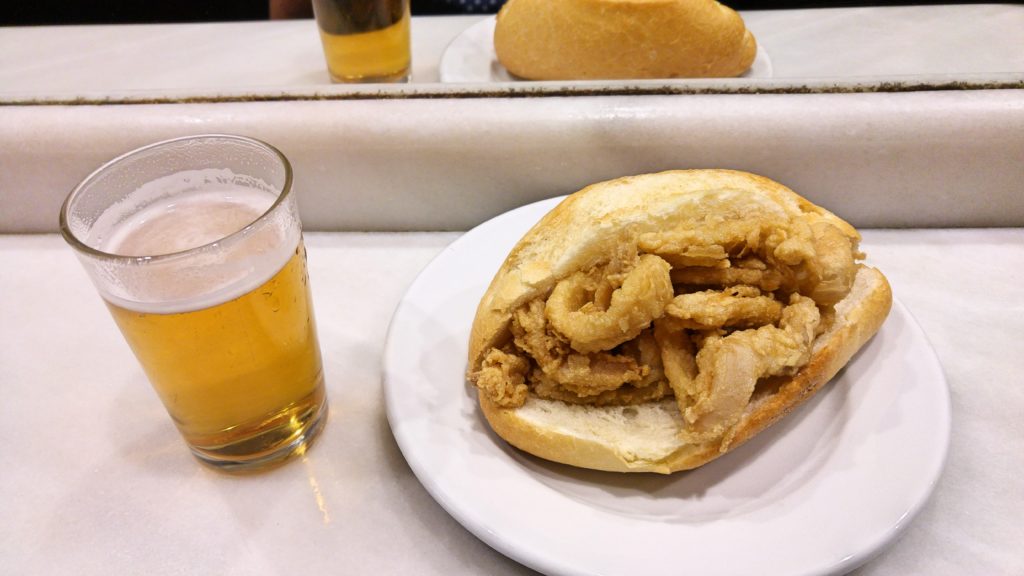 Churros
Churros are basically fried dough made from flour, salt and water that are eaten at any time of the day, typically eaten during breakfast time. While there are different variations, the one I tried in Madrid was accompanied by a large mug of hot melted chocolate. Damn son. Treat yourself to a a few of these sticks at the much visited Chocolatería San Ginés. You will also find the occasional street vendor next to parks too.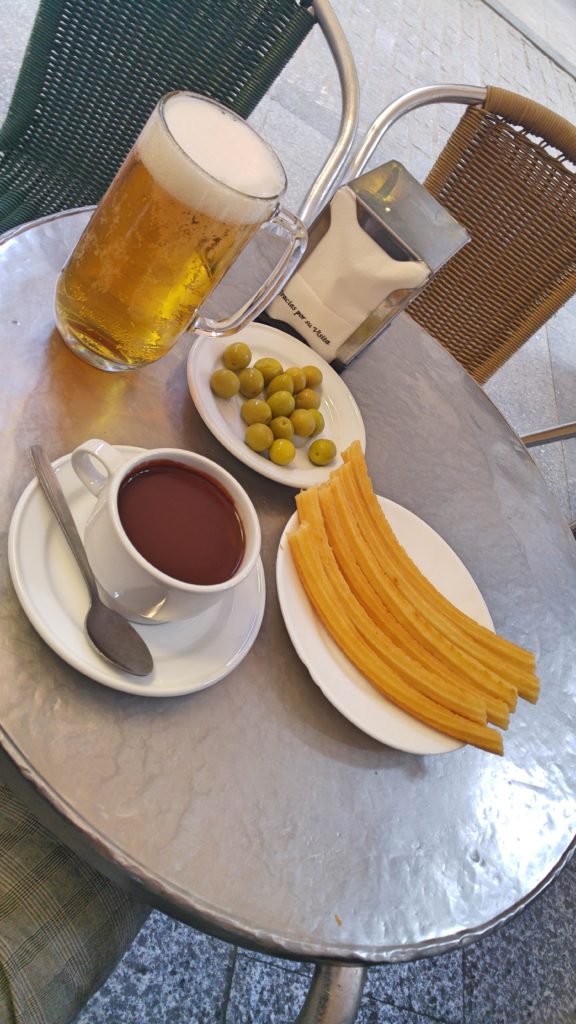 Paella
While many non-Spaniards consider paella to be a national dish, it is really a Valencian rice dish. Possibly my favourite dish, paella doesn't always contain the same ingredients. It can be treated as the Spanish variation of an Italian's pasta dish. There are therefore many recipes with different ingredients and yes, expect to find numerous variations in Madrid. The top ones you should try include the most famous seafood paella, the vegetarian or vegan paella and my personal favourite –  mixed paella which usually includes chicken, chorizo and shrimp too. Amazing. Most restaurants in Madrid serve paella but if you're up for a quick snack, I enjoyed the three types that are available at the Mercado de San Miguel.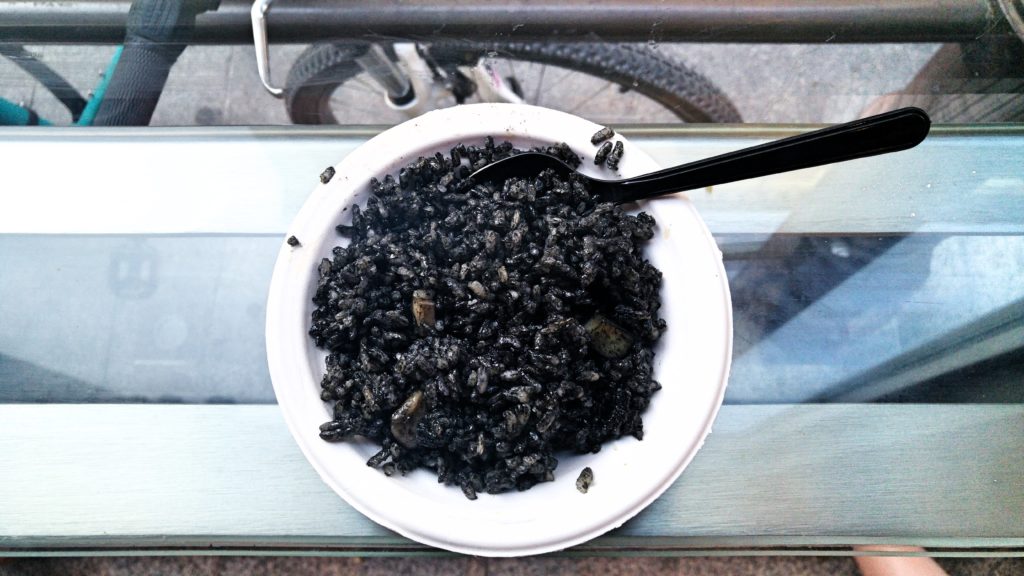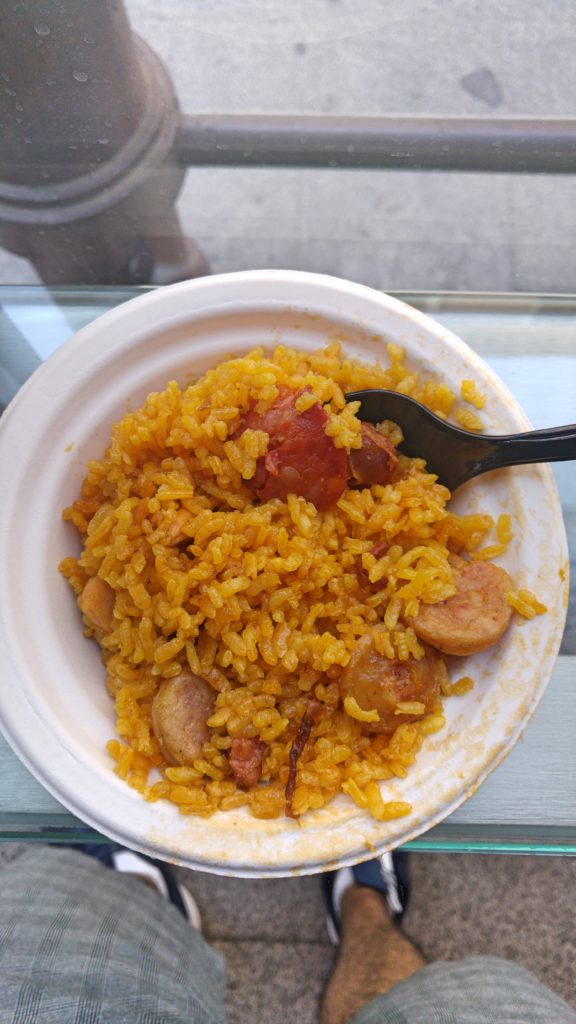 Jamón
While exploring Madrid I came across numerous shops and even a museum dedicated solely to this delicious cured ham. I also tasted a number of tapas which included jamón too. The most famous ham is known as jamón ibérico (ham from the Iberian black pig). This prime-quality ham tastes particularly unique due to its acorn-based diet. In comparison to other cured hams, typical characteristics in jamón include a darker colour and marbling  (due to a higher fat content).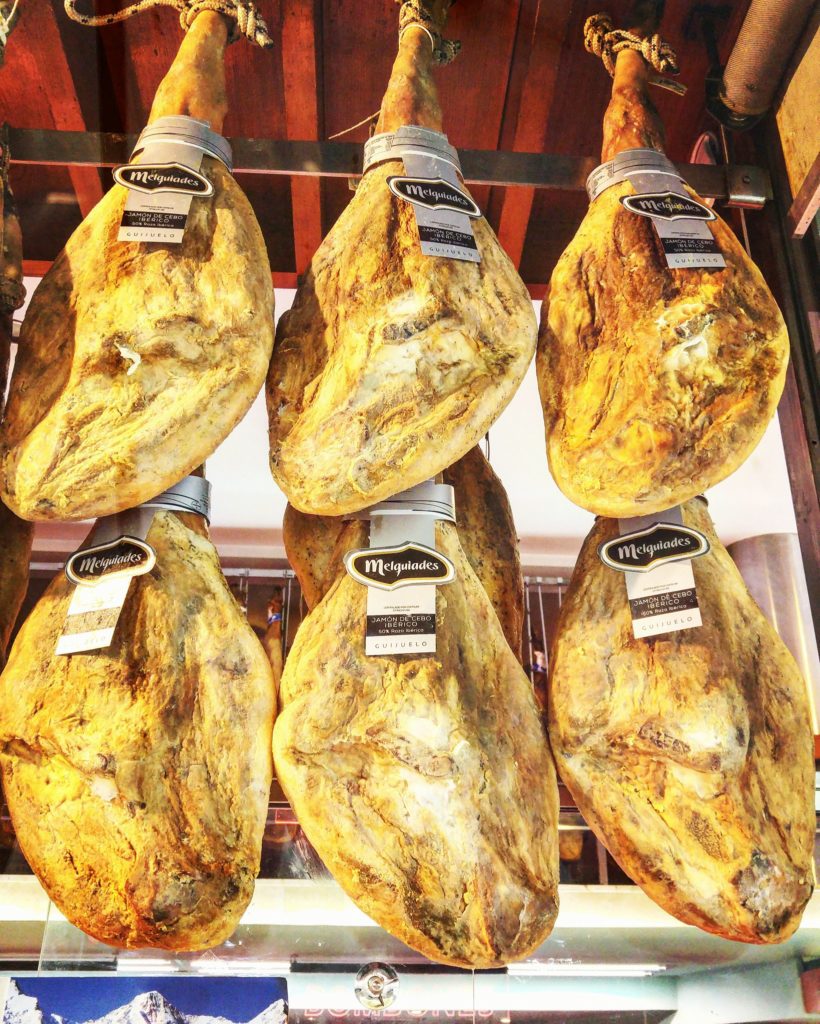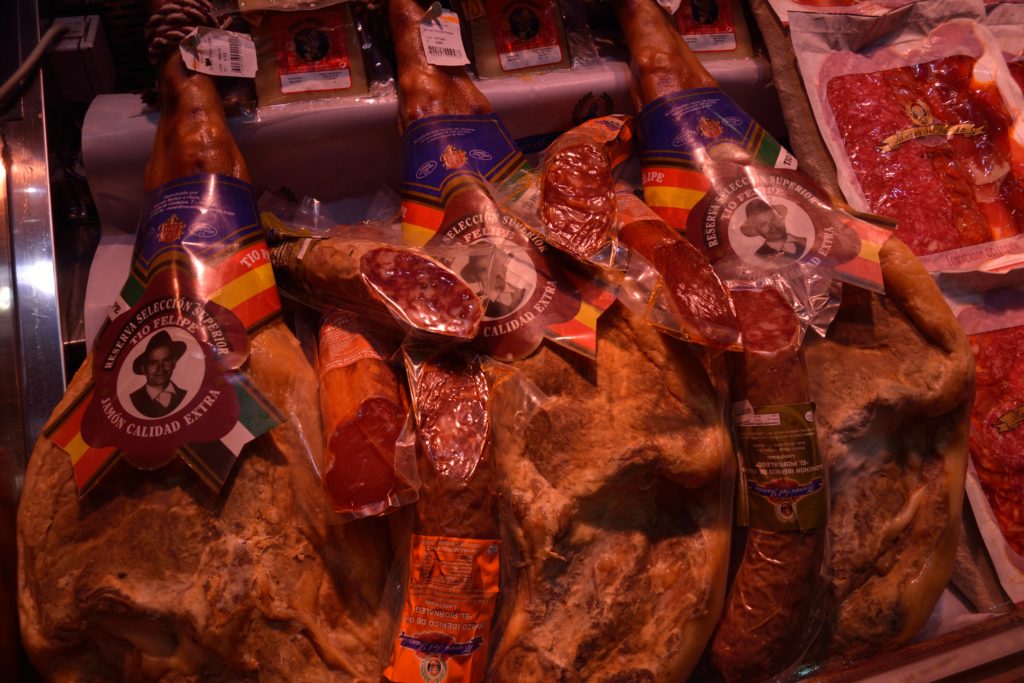 Overall, the dining experience was amazing – varied, always delicious and affordable. The best three factors in any meal. You are bound to find something you like and my suggestion to you is the following: Walk around Madrid and spend a few evenings exploring different neighbourhoods. Do visit a few restaurants or markets that are marked on travelling sites but don't limit yourself to these eateries alone. There are some truly authentic places in the small winding alleys and pedestrian streets that are not necessarily mentioned online. You have a better chance of tasting unique dishes in these places and obviously a better chance of interacting with the locals. This is what makes Madrid extra special. ¡Buen apetito!