What is Travel Insurance?
Considered to be the equitable transfer of the risk of a loss from one entity to another in exchange for money, insurance is a type of risk management service which benefits anyone who uses such a service. The insurer, generally a company, sells an insurance policy to a client or policyholder – you. An insurance policy may vary greatly between one insurer and another, mainly when it comes to the circumstances and conditions discussed and written in a contract. Like automotive, gap and property insurance, a type of insurance for travelling exists also and like any traveller, I highly recommend that you never leave home without it.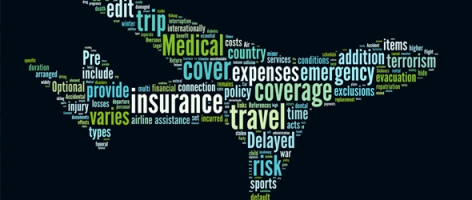 ---
Why do you need it?
Travel Insurance is usually made up of a number of different factors, however I believe that there are four important elements which I'm sure you can relate to. Insurance will cover travel setbacks which a traveller can come across during her/his travels. Here are the top insurance factors, accompanied by a few examples and what each factor usually covers.
Lost Luggage: You've been travelling for well over 15 hours and you arrive at your destination. It takes you ten minutes for the planes' doors to open and another fifteen to pass through security. You spend another ten minutes waiting for your luggage. Suddenly you realize that all the people on your plane have picked up their luggage and left. You keep waiting a little longer until you realize that your luggage never made it to the baggage claim conveyor belt. Travel insurance could help you greatly with this.
It is possible that the Insurance company provides the insurer the sum applicable to the insurance cover level chosen on accidental loss, theft or damage to baggage.
Certain agencies may provide an emergency replacement of critical day-to-day items, such as medication, toiletries and even a replacement for clothing.
You may also be reimbursed for the accidental loss, damage and also theft of personal money. This may apply to the country's local currency.
Additionally, the agency could cover the costs for travel and accommodation which have been incurred to obtain another passport abroad.
Medical Expenses: Imagine you're somewhere in Asia and a couple of friends suggest quad biking. The idea sounds amazing and you need an adrenaline rush. Twenty minutes into what started as a fun activity, suddenly turns chaotic – your quad bike hits the curb and you end up needing medical attention.
Insurance generally covers any hospital, nursing, surgical and medical costs.
It may also cater for the treatment of dental care.
To make things easier for family members, an insurance cover can cater for the cost of body transportation and funeral expenses in case of death.
Accommodation and transport costs if you have no choice but to return after a scheduled date.
A hospital benefit, which is usually a fixed sum, may be given to patients which are in a hospital abroad up to a maximum amount.
A cover may also be provided for the costs if you are caught up in an unforeseen event like a civil war and you have been given some form of medical aid.
Trip Cancellation: Interruption insurance or trip cancellation insurance also fall under a travel insurance policy. Although airline companies try their best to avoid this, it is very possible that something unforeseen occurs which will require a reschedule. Trip cancellation reasons may be one of the following.
A technical problem that could easily result in a massive flight delay.
It is also possible that a personal problem forces a traveller to cancel the trip. Illness or death of a family member for example.
It may be the case that police need you to immediately return to your home country or remain at home and miss a flight, due to some serious case such as theft.
Insurance will also cover situations which involve bad weather which could ground a plane.
An airline strike may force a trip cancellation.
A delay in connecting flights.
Due to massive home damage, like a fire or a flood which render your home uninhabitable.
Flight Accident: They are rare, yes, but flight accidents happen and it is good to have some form of insurance cover just in case.
It may cover accidental death.
It may also cover disability costs, like loss of limbs or eye sight.
A few take care of costs related to emergency medical evacuation.
For a very detailed insurance study, I highly recommend that you take a look at the article The Best Travel Insurance by Reviews which provides a well written and balanced overview of Insurance Companies and the coverage details they offer. The article goes into detail on custom insurance packages such as insurance packages for families or for solo travellers like myself.
Reliable Insurance Companies
International:
Local (Malta):